2 min read
SEV-P: Robotic Fastening System with Automatic Bit Change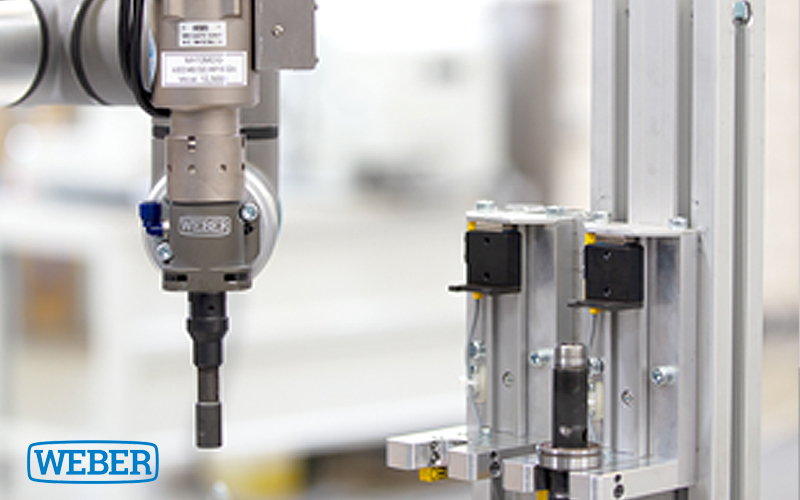 New servo driven spindle expands the WEBER portfolio of lightweight robotic assembly applications. Another WEBER innovation: pick & place system with automatic tool changer.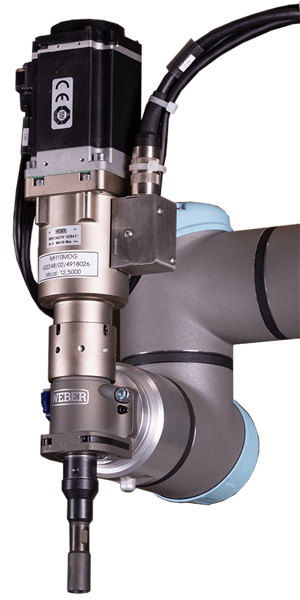 With the new SEV-P, WEBER Screwdriving Systems expands its range of servo driven spindles for the field of lightweight robotics. The SEV-P is primarily used as a pick & place system and can process all sizes of individually fed hardware elements. Additionally, the WEBER SEV-P spindle can tighten pre-assembled screws or nuts with the desired torque.

With the SEV-P, WEBER responded to customer requests for maximum flexibility and a higher degree of automation in screwdriving processes. It is the first supplier worldwide to offer a spindle which conducts a fully independent tool change while mounted on a robotic arm.

Following the principle and the applications of lightweight robotics, the spindle itself is also designed to be lightweight – the smallest model weighs just 1.5 kg and offers up to 10 Nm of torque. This can be used to implement a variety of different assembly applications. More powerful versions in the SEV-P series can weigh up to 5 kg and reach a torque of up to 60 Nm, always equipped with a corresponding drive and spindle carrier. Due to the vacuum screwdriving technology used, the SEV-P is also suitable for screw connections in hard-to-reach positions.

Flexibility in assembly processes is becoming increasingly important for customers. WEBER follows these demands with the SEV-P, allowing the use of any number of different exchange tools for processing different fasteners or workpieces.

WEBER once again sets the standard in making assembly processes more effective. This direct customer benefit is realized through the fully automatic tool change. Customers who have already pre-ordered the SEV-P will be using the new ultra-light screwdriving spindle for applications which require a variety of different fasteners, for example in repair stations. The very compact SEV-P is also suitable for assembly processes in tight spaces or for lightweight robots with a maximum payload of 3 kg.

The SEV-P is combined with standard drives and existing controls from WEBER. Suitable adapter flanges for different robot models are optionally available, as well as a slide for robots without force-controlled tracking.