Products > Fixtured Screwdrivers
Fixtured Nutdrivers/Torquing SEM / SEK
For nuts and head-heavy fasteners
The SEM variant is suitable for use with nuts, flanges and special nuts. Head-heavy screws can also be installed with the SEK variant. Both models use vacuum technology to reliably supply the fasteners and automatic feed systems.
Reduced moving masses
Through a fixed drive module, the number of moving masses is significantly reduced on both models. A dynamic transducer enhances this design property further. Another compelling feature of the fixtured screwdrivers SEM and SEK is their use of a reversing gear module with a compact design.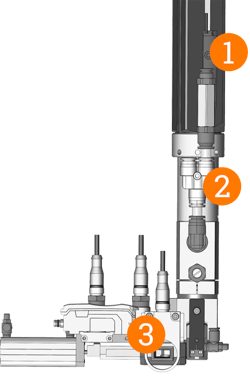 • For installing short screws or nuts
• Screwdriving spindle with active screw positioning at tooling for head heavy screws, as well as flanged and special hex nuts
• Automatic feed system with profiled feed tube to deliver the fasteners to the spindle
• Pneumatic or electric drive