2 min read
Who We Are & How We Can Help You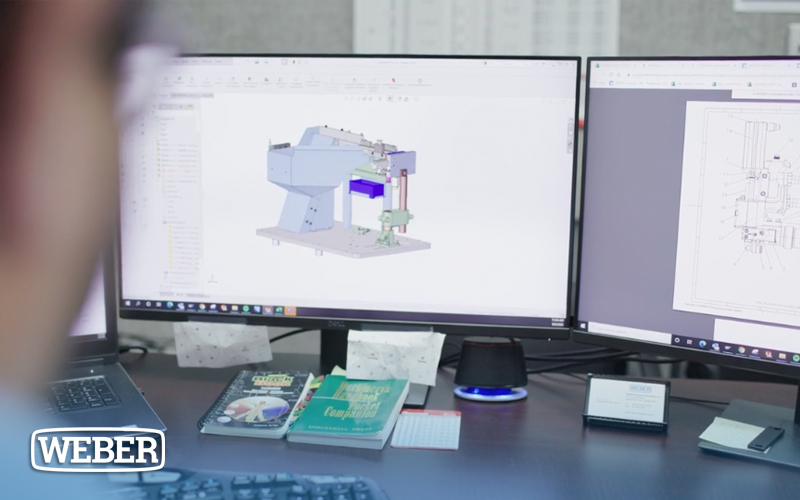 WEBER has been developing industry-leading automated screwdriving solutions for the most demanding applications in the assembly industry for over 65 years. For our customers, this means error-proofing screwdriving operations with reliable systems aiming to reduce cycle time & downtime while improving quality control & ROI.
We specialize in making complicated screwdriving easy
Watch this video to learn more, or read on!
We will design and build the right solution so you're able to put it on your line and walk away
fixed screwdriving systems
We offer fixed screwdriving systems designed for both mounted surface and robotic platforms. The configurable fixtured screwdriving spindles are adaptable to a wide range of screwdriving applications for several industries including medical, automotive, pre-fab, aviation, consumer products and more. The swivel arm, we have a Feed While You Drive design that allows our units to feed a screw while driving another at the same time, which reduces cycle time. We offer custom solutions built to adhere to our customer's exact specifications for challenging applications and difficult constraints.
handheld screwdriving solutions
We also offer handheld screwdriving solutions with industry-leading speed and versatility that allow operators full control over the driver while decreasing operator fatigue.
feeding systems
Our feeding systems focus on efficiency. They are capable of meeting a wide range of feeding applications, from screws for medical devices to large bolts used in automotive body assembly. Our durable feeders are designed to meet high volume production demands for joining applications while ensuring minimal downtime
control systems
WEBER control systems - like our C30 – can perform detailed data analytics. The goal is to measure the angle, depth and torque of each screw which reduces product quality issues and alerts you immediately of a defective part.
Our automated screwdriving, feeding & process control systems make it possible to reach deep recesses, drive-in horizontal orientations, and ensure each screw is driven to the exact depth, proper degree of rotation with the exact torque applied for consistent results every time.
As a manufacturer, you can rely on WEBER's automated solutions to help you produce high quality, reliable products. Upgrading your screwdriving technology can significantly improve product output, and equally as important, your profitability.
We are here to Make Automation Easy for you.