4 min read
How to Guarantee Automated Screwdriving Process Reliability in a Medical Device Assembly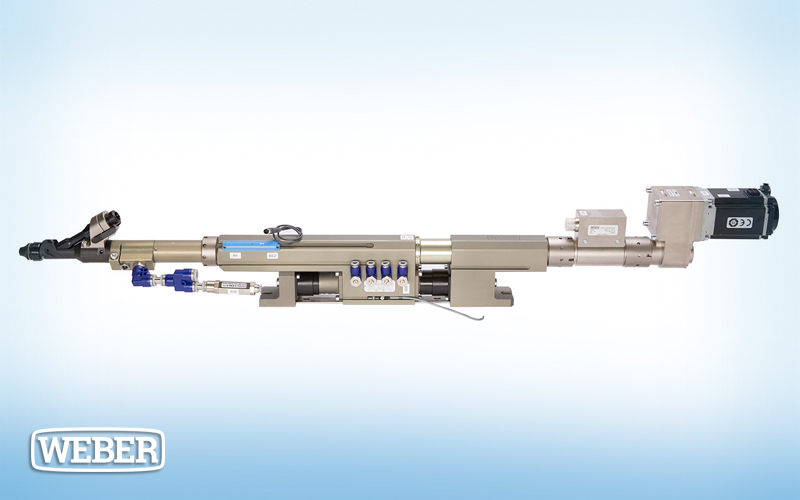 When it comes to medical parts assembly, keeping sterile fields uncompromised from contaminants is critical. That's why WEBER developed solutions to automate the screwdriving process for medical assembly that ensures parts remain clean and products are uncontaminated.
From custom control systems to fixtured screwdriving, you can guarantee automated screwdriving process reliability in your medical device assembly with WEBER solutions.
We are even willing to think outside the box. For example, we have assembled syringes with push-on caps and twist-on caps. We also built a machine for medical device manufacturers to twist on caps. We are here to help make automation easy!
Medical Applications for Reliable Automated Screwdriving
For reliable medical device assembly, find a line of screwdriving and feeding systems with integration capabilities and the latest advancement of networkable, IP-capable control systems.
The more compact the fasteners and parts are, the more susceptible to contaminating particles. Even microscopic metal particles as small as 100 microns can cause parts to malfunction.
WEBER understands its clients' challenges and we deliver the most suitable technology, product, and solutions. Here are the two recommended for medical device assembly.
Once workers unpack parts for assembly, the threat of contamination increases. WEBER counters this with a solution inspired by their long-standing know-how.
In this visual example, the device feeds the fasteners to the spindle with a smooth, vibration-free ZEL step feeder. This process eliminates dirt dispersion, abrasion, and wear and tear on parts.
WEBER incorporates a dirt brake just in front of the spindle. They designed it in the form of a dirt turnout. Any surface-adhering particles and the transport air get extracted. Fasteners use gravity to overcome the last few inches of the screwdriving head.
This technology is available as an option for all of WEBER's screwdrivers.
Vacuum Fixtured Screwdriver SEV
The WEBER SEV Fixtured Screwdriver features a rugged and highly reliable design which is the industry standard for fixed spindles. It is ideal for medical parts assembly because its proven design mitigates potential contamination when accessing locations that are normally unreachable by conventional means.
This solution also features a screwdriving spindle with vacuum technology ensuring reliable fastener insertion in locations that can be difficult to reach or have extremely limited access.
This Vacuum Fixtured Screwdriving system works in two ways to ensure a sterile field during Medical Assembly projects. Not only does it keep screws in place as you drive them, but it also removes the particulates of screw coating that flakes off.
The counterblast feature also keeps your field free from contamination. Use the feature to clear the vacuum system from anything it clears from the field. (It also reduces downtime from maintenance, which is a win-win all around.)
Product Features
Automatic feed system
Depth verification (digital or analog)
"Feed while you drive" technology
Pneumatic or electric drive
Optional active depth
Process Controller C30S
Common issues customers face is ensuring each fastener gets correctly seated. WEBER developed the process controller C30S to solve complex screwdriving applications. While driving screws, you can see every joint in the assembly in 3D to improve process control and prevent defective parts from leaving your medical assembly operation.
3D monitoring enables your workers to measure the torque (force required), angle (rotation), and fastener depth (actual position) through the fastening process. That's just one way the WEBER C30S improves your medical assembly project.
The display allows you to choose from 31 configurable screwdriving strategies and programs. Choose from the model with torque or rotational angle sensor or the process controller C30 with current control.
It features open interfaces, including:
Digital
Ethernet IP
ProfiNet
Profibus
With the C30S, detailed analysis is possible. Read and document various results via a USB/PC connection allowing you to control the system from a remote display. Keep logbooks, count cycles, save results, and document the rolling torques with your C30S.
Product Features
DC servo drive
Data Collection
Graphing
Complex applications
Digital interface
USB interface
Fieldbus interface
Results display
7" color touchscreen display
WEBER USA Delivers Reliable Medical Device Assembly
At WEBER USA, we provide custom screwdriving solutions for automated assembly challenges with industry-leading support and fast lead time. We are here to make automation easier. Our systems deliver the utmost technical cleanliness to reduce contaminating particles.
We engineer solutions for fastener locations that are hard to reach and design standalone feeding systems meant for fastener styles that are challenging to manage. The results are high-quality products with maximum process reliability, which makes the production processes more efficient.
Improve cycle time, ROI, and OEE with our controller systems and automated fixture screwdriver process for medical device assembly. Contact us today to learn more.