System Solutions
HRC Screwdriving System for Human Robot Collaboration
Fully collaborative automatic screwdriver, thanks to highly advanced sensing technology
When humans and robots work together, the environment must be safe and efficient. The design and function of the WEBER HRC screwdriving system ensure that the most complex variant of Human Robot Collaboration can be realized in accordance with ISO TS 15066. The safety concept of the HRC Screwdriver SEV-C makes the fully collaborative assembly process possible. Moreover, the automatic feeding of the fasteners creates a highly economical workplace.
HRC capable screwdriver: built for lightweight robots (cobot)
The use of cobots is made possible by the low weight of the WEBER HRC Screwdriving Systems. Screwdriving applications can be implemented using a fully automatic SEV-C or SEV-L screwdriving spindle with automatic fastener feeding. The SEV-C is the logical solution for the screwdriving and joining technology of the future, and even today it provides answers to the requirements for precision, safety and weight reduction.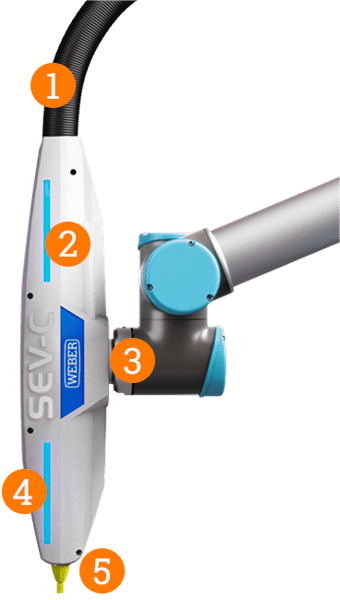 The unique safety concept of the SEV-C screwdriving unit offers safety for the worker while implementing threaded connections. The collaborative working method opens up new opportunities:
•

Wide range of Cobot applications
•

Reduced space requirement
•

Economic efficiency thanks to parallel processes
•

Ergonomics and work quality