3 min read
Solution of the Month: LCSV Vacuum Spindle for Long Reach Application
By: Tom Ash Apr 21, 2022 9:30:00 AM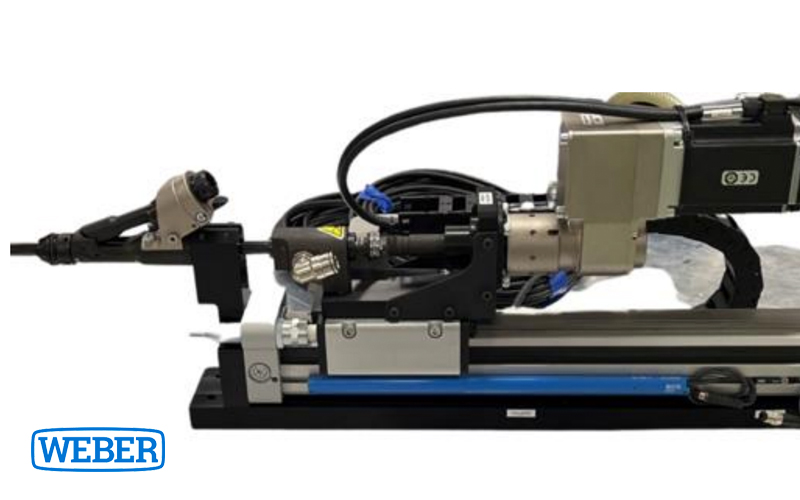 Each month we feature a unique application design solution we've developed. Sometimes it's a tailored solution for a complicated obstruction point or maybe it's a solution to reduce product quality issues. This month we are featuring the LCSV Vacuum Spindle for Long Reach Applications. This innovative solution will change the assembly game for manufacturers. It's built to drive screws in deep part recesses that you used to have to drive by hand. No more operator fatigue!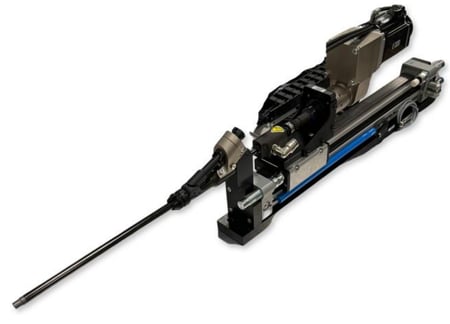 In a recent application, we used this long stroke vacuum spindle in conjunction with the
C30 drive
and
ZEL feeders
. This application is for an assembly that required 50 screws to be installed in various locations, some wide open and others recessed down a long sidewall of 200mm. The LCSV provided the solution to feed and drive all 50 screws utilizing a X-Y Cartesion robot, as a Z-axis was not required. The long analog depth sensor allowed for depth measurement reading of 256mm. The C30s is designed to solve complex screwdriving applications, allowing you to count cycles, collect screw installation data of assembled parts along with on-board analysis tools to ensure quality and uptime.
It also helps you monitor your fastening application and make changes to the installation specifications such as torque, angle, and depth – enabling you to perform your most critical tasks with just a few clicks of the mouse.

Here is more information on the project!
Special Features:
Extended stroke Bit protrusion – designed for up to 200mm deep recesses
Simple Design vacuum module with quick release features.
Machine Data:
Components - LCSV Spinlde with 200mm useable stroke. Analog depth sensor - 256mm measuring range
Feed Orientation - vertical down
Head stroke - N/A
Single cycle time -3.5 s / per screw
Feed system - ZEL240 with TG13 escapement
Fastener:
Designation - Self tapping screw
Head type - Pan head with integral washer
Head Ø - 8.0 mm
Material - Steel
Torque - 1.6 Nm
Work Piece:
Positioning accuracy - Via axis system
Screw locations - 50 locations – (5) systems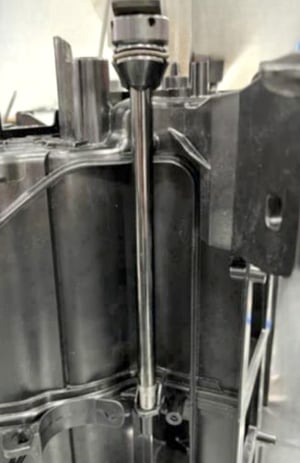 Task:
Feed and Drive (50) screws per assembly with (5) LCSV03 Screwdriving Spindles in multiple stations
Target = Not all screws are on the same plain. Customer wanted a common spindle to access screws with an XY motion system (no Z-Axis). This meant screws can be driven at 25mm away and 200mm away. The long analog depth sensor provides the measuring range required.
Process Description:
The LCSV03 Spindle is mounted to a X-Y Cartesion Robot.
Robot positions spindle over screw location which is 25mm away from end of nosepiece or up to 200mm away.
Start of cycle advances the bit forward, engages screws thru the nosepiece and continues until it engages into the part screw location, which drives the screw to a programmed depth then slows to a final torque, monitoring final depth (ensuring the screw is fully seated).
Each screw location results in a variety of cycle times. Close screw locations are driven in 2.0 sec. And far to reach locations in 3.5 sec.
For more unique application design solutions, subscribe to our blog for monthly updates on our Solution of the Month!