3 min read
Innovations in Tool Changing for Screwdriving
By: Tom Ash Jul 14, 2022 9:15:00 AM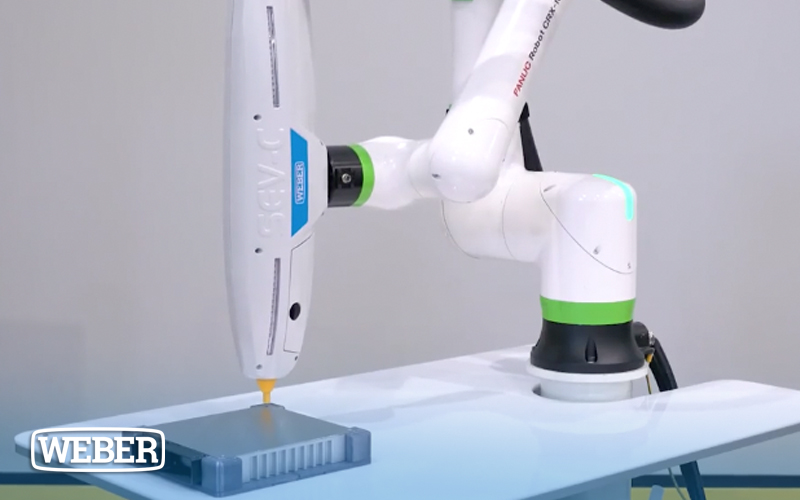 The idea of humans and robots working together no longer falls within the realm of science fiction. With today's automated screwdriving systems, like the collaborative robot (or cobot), operators and machines work together to set screws quickly and efficiently even in low-volume, high-mix assembly operations. WEBER provides screwdriving solutions that can help you automate these processes, using quick tool changes to solve your unique assembly challenge.
How Quick Tool Changing for Screwdriving Help Increase Throughput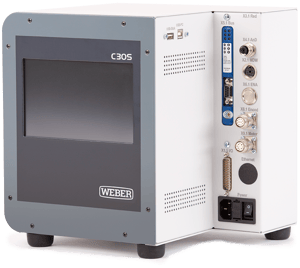 Versatility has become a unique differentiator in today's assembly processes. Quick tool changes and integrated, automated assembly solutions require process controllers that can provide instant feedback about each screwdriving operation. WEBER's systems use process controllers that can track the depth, angle, and torque of each screwdriving operation, giving you complete oversight over the process and preventing product liability issues before they become a catastrophe.
When you combine our quick tool change screwdriving systems with modern cobots, you can increase your plant's throughput and adapt your process quickly when inevitable changes occur.
Quick Tool Changes for Screwdriving Applications
Manually changing out tools for different assemblies or fasteners can increase your cycle times and limit throughput, while introducing product liability issues if you cannot monitor the process sufficiently. Operators may have to change the bit to accommodate a different type of screw or load a spindle that changes the torque during the screwdriving operation.
Automated tool changes that don't require operator intervention can help you overcome these challenges.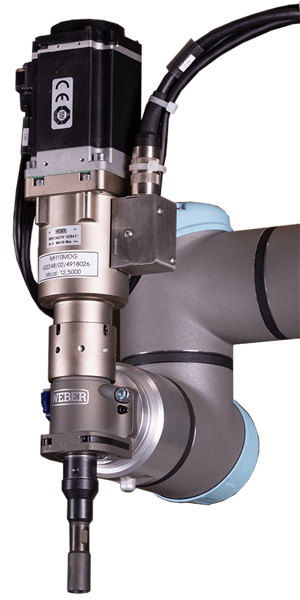 Situations that may call for quicker tool changes include:
Challenging screws that cannot be blow-fed through automated feeder tubes
Assemblies that require multiple fasteners installed into a single part
Low volume and high-mix assemblies
Picking and placing solutions like the SEV-P screwdriving systems work best in these situations if you don't have operators available or want to automate more of your workloads. With the SEV-P, a lighter payload robot will move the spindle to the fastener location, lower it onto the top of the SEV-P vacuum bit, and engage the fastener before removing the fastener from the dead-nest and transferring it to the installation location.
When it comes to picking and placing different types of fasteners, the SEV-P can automatically change the vacuum bit assemblies according to the desired application. You may first have to drive a Phillips screw before installing a hex nut onto a stud. In these situations, three different vacuum bit tools can reside in a tool changer docking system and the spindle (manipulated by the lightweight robot) will drop off one tool after the first operation before automatically picking up the next tool to install the different fastener.
WEBER SEV-P Robotic Fastening System with Automatic Bit Change
Predominantly used as a pick and place system, the WEBER SEV-P system gives you higher flexibility combined with quicker tool changes. The fully-independent tool change gives you a lightweight option that integrates with our existing drives and process control systems. While it may not be entirely collaborative, the automated tool change is ideal for situations where you need to set different fasteners into an assembly quickly in individually fed fastener applications.
WEBER SEV-C Collaborative Screwdriving System
For a truly collaborative screwdriving system, the WEBER SEV-C lets your operators and robots work together with fully automated assembly processes. Automatic feeders ensure your fasteners are always available while the process controllers help to error-proof your assembly operations.
Why Choose WEBER for Your Screwdriving Applications with Quick Tool Changes?
WEBER continues to deliver innovative solutions that can help error-proof your assembly operations while reducing cycle times and increasing throughput. We can assist manufacturers that need automated screwdriving and feeding systems including automated tool-changing capabilities. If you are investing in a lightweight collaborative robot for your assembly operations, you should consider WEBER's automated tool-changing solutions for your facility.
If you want to optimize your screwdriving and assembly operations with automated and quick tool-changing capabilities, reach out to WEBER today.